The Invention of Tragedy
a world premiere by Mac Wellman
at The Flea
I'm so excited to be part of the Mac Wellman festival at The Flea this fall, and to be in the world premiere of a new play! Directed by the incomparable Meghan Finn, this show is sure to be a crazy ride. More to come!
Click here for tickets!
I have the wonderful opportunity to play April in an original series, created and directed by Monica Arsenault. Teasers, the pilot episode, and the rest of the season to come!
Nun Habits is a story about a weed-smoking Nun, Sister Cecilia, who befriends a gay high school senior, April. Throughout their friendship, they discover their place within the Catholic Church. Sister Cecilia discovers that her mission is to minister to those the church dismisses - to give a voice to the voiceless. April discovers how to embrace who she is, be honest with herself and her Dad about her sexuality, and recognize that God loves all his children equally. Ultimately, Sister Cecilia is faced with a choice: does she follow the teachings in the catechism or does she leave the convent and help those who think God would never love them as a result
of those teachings?
Click here to learn more and watch the trailer!
So excited to have been able to work on Cheer Up, Charlie!
The series was created by another super talented friend of mine, Kara Grace Miller, and produced by Monica Arsenault (creator of Nun Habits series).
The Bats at The Flea
Last summer, I auditioned to be accepted into the resident acting company at The Flea, an off-off Broadway theatre in New York. So far, it's been wonderful being an active part of the company in many ways, and building my community with other artists.
To find out more about The Bats, click here!

The Flea produces exciting plays, new and old, that challenge socially relevant topics.
For more about The Flea and the exciting work being produced this season, click here!
Past
Not My Monster!
at The Flea
Every Saturday, February 23 - March 30, 2019 at 11am and 2pm!

This Spring, I'm excited to make my Flea debut in Not My Monster!. It's a new, all ages play that was born out of Cereals, a series presented over multiple weekends in which original ten-minute episodic children's plays are produced weekly. NMM! is the first Cereals play to be developed into a full length play and produced at The Flea.

For tickets and more about Not My Monster!, click here!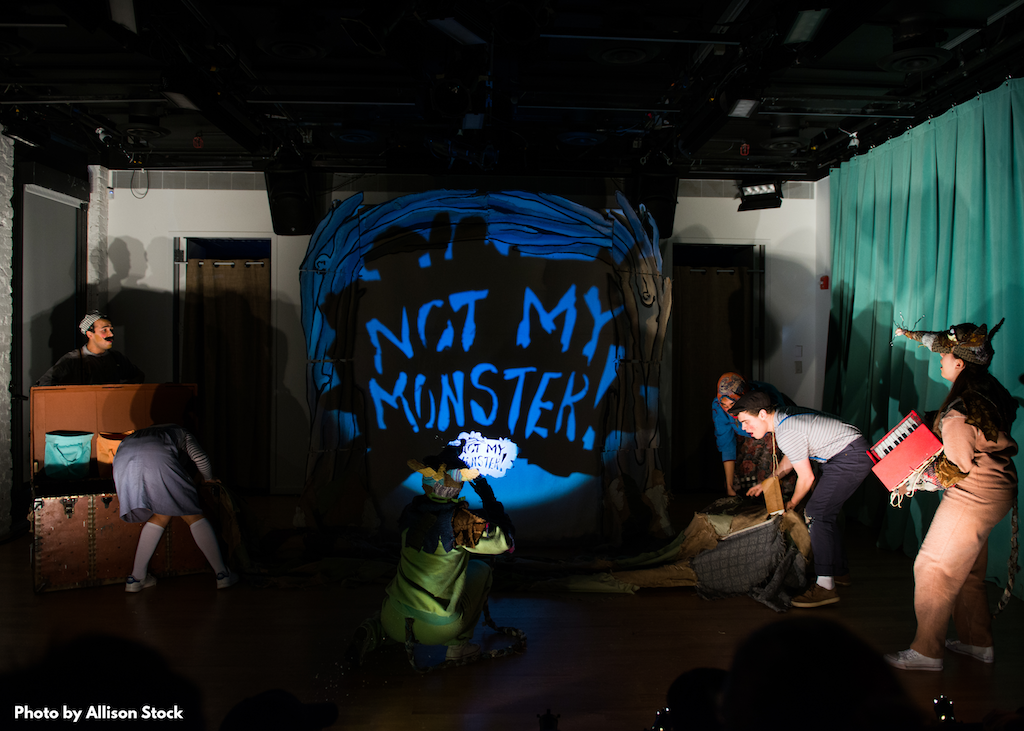 "Two sisters from an ecclesiastical family navigate the waters of identity. Dike questions the walls religion and social conditioning build within us."

After working on a workshop reading of this fantastic new play by Hannah Benitez at NYTW with Tatiana Pandiani, we're heading down to Sarasota, FL, so keep working! This time, as a full developmental production.

For more info about the production at Urbanite, click here!
For more info about the play itself, click here!
Click here for production photos!
Buzz about the show!
"Alice Marcondes soars in the role of Rachel, whose youthful intensity of conviction so often seems like a kettle whose whisper is just about to give way to whistle."
-The Bradenton Times
"The stellar cast was brilliant in each of their roles and magnificent as an ensemble, delivering quick paced dialogue and exuding chemistry…. Miss Marcondes embodied the sweet and innocent Rachel, who stays true to her convictions, and holds in so much, that we think she might burst….Each actress fully understood their characters and came prepared to give us four very distinct personalities in a way for us to understand and befriend them."
-Broadway World
March 2018
"Two sisters from an ecclesiastical family navigate the waters of identity. Dike questions the walls religion and social conditioning build within us."
I had to opportunity to be part of a workshop of this new play at New York Theatre Workshop. It was a project by director Tatiana Pandiani, one of NYTW's 2050 Artistic Fellows.
October 2017
In my final semester at the Atlantic Acting School, I had to opportunity to be in Stephen Adly Guirgis' The Last Days of Judas Iscariot as Mother Teresa. It was truly an ensemble piece (a cast of 20!) and was exhilarating to work on. For more about the production, visit the Thirty Three Theatre Co's past production page here!
"You all are truly masters of your craft... you successfully managed a three hour beast of a show and filled it with raw intensity, beautiful moment to moment work, and honesty!"
- Sonja Cirilo Parilla
"That was one of the best shows I've seen in Stage 2. Your commitment, depth, specificity and sense of play rival almost all the theater I've seen this year."
- Michael R Piazza
September 2017
Catch me on The Hunt with John Walsh on CNN! It was so great to be part of a show that supports victims' rights.
Check out The Hunt's main page to find out more about the show and how many criminals The Hunt has helped catch, which now includes the criminals featured in my episode!